Written by Al Beaton | 27 May 2012

Updated 4:30 PM: The Detroit Free Press' Dave Birkett has more on Nick Fairley's arrest: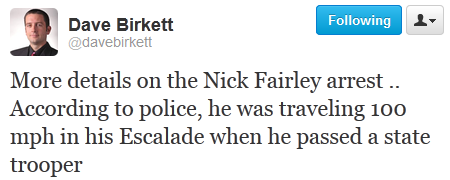 Speeding in triple digits while drunk, with an open container of booze while driving with suspended license 7 weeks after a pot bust? Absolutely unaccptable (and moronic) behavior. NFL Commissioner Roger Goodell will have a field day with Fairley's punishment. If Fairley doesn't get a suspension of less than 4 games, I'll be shocked.
At the very least, the cops kept Fairley from becoming the next Reggie Rogers.
Original post: Reports out of Alabama have Nick Fairley making the Detroit Lions' ridiculously awful off season much, much worse.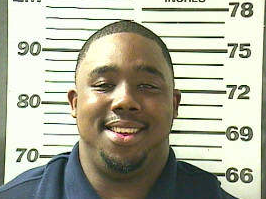 Smile for the camera, Nick.
Say, "Cheese I'm an idiot!"
Nick Fairley, a local football star and NFL player, was arrested early Sunday morning for driving under the influence and attempting to elude police.

Alabama State Troopers say Fairley was arrested shortly after 1:00 a.m. Sunday on I-10 near the intersection of Highway 90 in Tillman's Corner.

He was charged with DUI and attempting to elude police, but troopers also said Fairley was ticketed for reckless driving, no proof of insurance and having an open container.
In response, the Lions have released a terse, one sentence statement:
"We are aware of the reports and are in the process of gathering more information."
I honestly have to wonder what the Hell Fairley was thinking...Oh, yeah. He wasn't. Apparently, you can't teach a Lion new tricks.
What's really has me wondering about Fairley's IQ is he was clueless enough to pull something so idiotic coming off his marijuana possession bust in early April, putting him on the NFL's substance abuse radar. If the DUI and eluding police charges are true, and I have no reason to assume otherwise considering his track record (and stupid happy mug shot), a suspension is in the offing from the NFL. And if the NFL doesn't lower the hammer, the Lions should come down on him with the all wrath of what is going to be one pissed off fan base.
What was looking to be season where this team was to take the next step, actually winning in the playoffs, could become a wasted year before they even take foot on the field. This sort of irresponsible behavior imust be dealt with in the appropriate manner.
The way I'm feeling at the moment, the appropriate manner = throw the God damn book at Fairley.
This franchise has to get their house in order. Lions' brass have to remove their blinders, and take a hard look at themselves and the roster. Their young players have developed a reputation for stupidity and recklessness, both on and off the field. Fairley's actions reflect on the entire franchise, reinforcing the notion the Lions are a team of reckless reprobates and mental midgets.
I just didn't want to see more proof of it.