Written by Al Beaton | 07 January 2012

We get a lecture on what OT should be in the NFL by Bob Costas. I love being lectured to by Costas. //rolls eyes//

Bert, Costas is ALWAYS serious.
Lions halftime stats: Stafford: 14-for-22-180 yards, 2 TDs. Megatron: 5 catches, 74 yards, TD. Smith: 5 rushes, 20 yards.
Saints: Brees: 17-21-174 yards. Colston: 4-52 yards. Sproles: 7-34 yards, 1 TD.
FYI, via @ESPNStatsInfo: Lions are 5-0 this season when leading at halftime; Saints are 1-3 this season when trailing at halftime.
Saints will start the half from their own 22. And Thomas sprints to the 40 yard line, just like that.
NOOOOO! Meachem is WIDE OPEN at the Lions 20...DROPPED!!! Whew...
So the Saints just go back to the run. Ivory off tackle to the Lions' 41.
FUCK. Brees has time, Henderson has a step on Spivey...touchdown.
Saints take a 17-14 lead. From the looks of things, it's going to be up to the Lions' offense to win the damn game.
Stafford needs to counter Brees' TD drive.
Good start, as Megatron comes down with Stafford's pass at the 41.
Stafford over 200 yards on the game with that throw.
Stafford to Burleson....horse collar! Or at least a hit to the helmet! FLAG. Screw it, it's coming back. Backus hold. Shit. Lions not getting the calls. So what else is new?
2nd and 19...lots of misdirection, play action, fake end around, want the screen...Stafford has to throw it away.
3rd and forever. Underneath throw to Burleson gets 10. Lions will punt.
Saints called for a block in the back on the return. It's the Saints 1st penalty of the game. Seriously.
It's a make up call. Saints start at their 8 yard line.
NEED A TURNOVER.
2nd and 5...fake pitch, Lions don't but into it...SACK! 3rd and 11!
Saints gets the benefit of the doubt on the 3rd down throw...1st down? WHAT?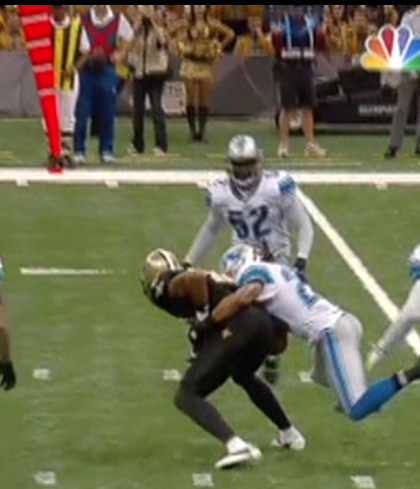 THAT'S A 1ST DOWN?
WHY DIDN"T SCHWARTZ CHALLENGE THE SPOT?
ARRRGH. Wright drops a sure pick on 2nd and short.
But the D-line bails him out, stuffs the run on 3rd down.
But Brees gets the 1st down on a dive over the line on 4th and inches.
Saints driving, at the Lions 46. Brees wants the deep ball...Colston in open at the 5...caught. FUUUUCK.
Ball marked at the 3. Brees to Graham...TD.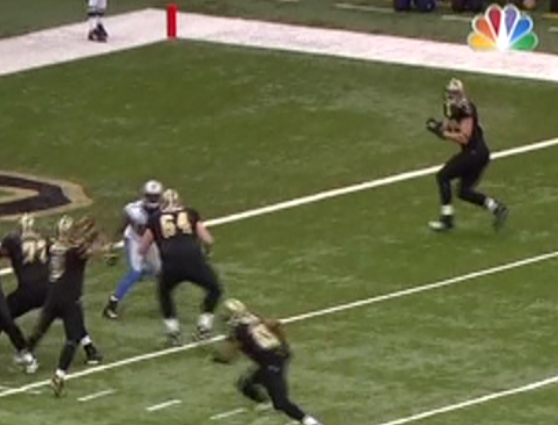 That's known as BLOWN FUCKING COVERAGE.
Saints with a 13 plays 92 yard drive, took 6:27 off the clock, and now lead 24-14.
Lions need a score. BADLY. They don't counter with a score after the Saints get a break and capitalize, it's lights out.
Megatron with a 1st down catch...FLAG. Holding on...the Saints? Heavens to Betsy!
URK. Stafford just misses Young, who lays out, just misfiring. But Megatron movers the chains, catching a ball in triple coverage at the Saints 45!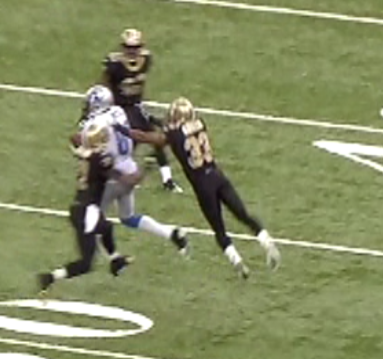 2nd and 10, Stafford wants it all...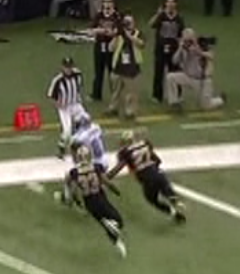 MEGATRON CATCH AT THE 2!
1st and goal, Young in traffic at the 1.
Stafford sneak on 2nd down...stuffed.
3rd and goal. Lions in the Jumbo package...play action....bootleg....Stafford dives to the pylon!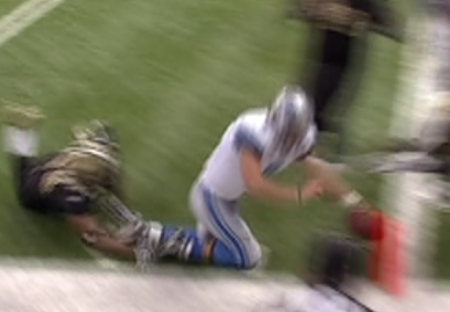 TOUCHDOWN LIONS!
And we'll have a review...
Fuck, who knows what'll happen. Less conclusive plays have been overturned.
And....The play stands as called! Touchdown!
After the PAT, Lions are back in it, down 24-21.
Saints start at their 20, face 3rd and short as the 3rd quarter ends.
15 minutes left, Saints up 3, 24-21.
I need an antacid.