Written by Al Beaton | 19 November 2010

It's bad enough the NFL Network's pairing of Matt Millen & Joe "A genius is a guy like Norman Einstein" Theisman is the intellectual equivalent of having Timmy of South Park and Family Guy's Opie in the booth...save for Timmy and Opie making infinitely more sense.
But the ridiculousness of Millen working NFL games from the broadcast booth manifested itself in a big way Thursday night with the following mid-game quote:
Matt Millen: That guy, right there, is one of the best coaches I've ever been around!"
And who is "that guy?" Watch and listen...
One of the best coaches Millen has ever been around is the only NFL head coach to lead a team to the Hellish depths of 0-16.

We're going to start by working on pad level,
move on to pounding the rock, and finish with shoveling...
Yes, it's Mr. Pad Level himself, Rod Marinelli.
Well, save for that little 0-16 hiccup...or the talking in cliches thing...or keeping 11 defensive linemen on the roster...or saying "pad level" over and over and over...Millen might be on to something.
There was a time when I actually defended the TV networks hiring of Millen. If the networks are willing to hire the mustachioed moron, I believed Millen had every right to continue to make a living. Hell, he might even turn out to be entertaining.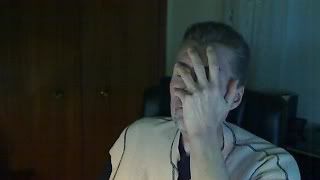 WHAT WAS I THINKING?
OK. I admit it. I was WRONG.
Every time the franchise destroyer turns up on my big screen, I die a little more inside. It's a pain that refuses to go away...and trust me, I know pain.
The only person who suffers more than Lions fans during the NFL Network telecasts is poor play-by-play man Bob Papa, who has to spend 3+ hours in the booth with a pair of clueless, dense clowns. At least he's getting paid, all we fans get is the metaphorical finger from the NFL.
The inane, nonsensical babbling between Millen and Theisman (who I thought was out of the booth for good when ESPN canned him) drives even the most mild-mannered football fan to the verge of wanting to storm NFL HQ in New York City with torches and pitchforks.
Unfortunately for we Lions fans, Millen working nationally televised games picks at a sore we clearly want closed.